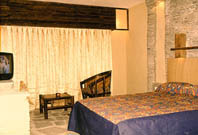 Jomsom Mountain Resort
" If there be a paradise on earth, this is it, this is it...!"

Jomsom Mountain Resort is a 100 room international standard 5 star hotel on a superb plateau at Jomsom.
The hotel is unique, not only in Nepal but also in the entire sub-continent. This ethnic multi-million
dollar hotel opened its doors to the World in December 1999. It is the only resort in Nepal that fully
meets the International Environment Standards and minute care is taken to maintain the eco-system
of the surrounding area. It is a perfect example of the delicate balance between nature and man at work.
The hotel's architecture is based on a Thakali village concept and blends in naturally with the local surroundings. About 500 feet below the hotel is the Kaligandaki river which flows downstream to
form the deepest gorge in the world. The most breathtaking sight of all is in front of the hotel.
The majestic Nilgiri Mountain is visible from every room in the hotel.
If you love the mountains and are also environmentally conscious about their
preservation, then this is the holiday you've been dreaming about.
A two-week or two day holiday in Jomsom will relieve your mind of tensions,
cleanse your soul and revitalize your body!!
THE PLACE
In the middle of high Himalayan settlements of Tibetan-speaking people is a village called Jomsom.
Life here is a balance of hard work, and ancient culture. Jomsom, at an altitude of 2713 M., is often
thought of as an attractive and even romantic example of high-altitude settlement. There may be
no other resort in the world from where the Himalayan peaks can be admired so closely. Giants of the Himalayan Range like Nilgiri, Dhaulagiri and the Annapurna Range seems almost at touching distance.
Many visitors find their most lasting impression of Nepal comes not from the
ancient temples in the urban valleys but from visits to places like Jomsom
and its exhilarating spiritual environment. Jomsom area is not only the most popular
trekking destination in Nepal but also the gateway to Upper Mustang — "Kingdom" within the
Hindu Kingdom of Nepal. Jomsom is also the gateway to The Muktinath shrine that holds
great religious significance to both Buddhists and Hindus.

FACILITIES

Heated indoor swimming pool

Centrally heated public areas and bedrooms

Luxury restaurants serving international as well as local cuisine

Sauna & Jacuzzi

Fully equipped gymnasium

Multi-purpose Hall for parties and conferences (250 guests)

Yoga & Meditation Center

In-house Laundry Service

TV with major international channels in all rooms

Mini-bar in every room

Fully equipped health spa

Indoor games
OUTDOOR ACTIVITIES

Rock Climbing Pony-Polo Ground

Short Treks to Muktinath Temple

Lessons in high altitude survival

How To Get There

Jomsom Mountain Resort
Other Places

Shimla Jomsom Ooty Jabli & Nandoh Mukteshwar Nainital Chamba Kausani

Books on Mustang, Nepal
Nepal | Island Breaks | Beach Getaways | Gambling | Exotic Locals | Adventure | Rejuvenate | Cruises | Legal Issues | Africa
Company Profile | Testimonials | Indian Railways | Pilgrimage | Corporate Incentive | Our Services | SE Asia
Honeymoon | Ayurveda | General Information India | Gastronomical Delights | Travelogue | Bhutan | Heritage Properties |
Visit India Fares | Tibet | Customised Packages | Hotel Deals Jomsom