Nepal | Island Breaks | Beach Getaways | Gambling | Exotic Locals | Adventure | Rejuvenate | Cruises | Legal Issues | Africa
Company Profile | Testimonials | Indian Railways | Pilgrimage | Corporate Incentive | Our Services | SE Asia
Honeymoon | Ayurveda | General Information India | Gastronomical Delights | Travelogue | Bhutan | Heritage Properties |
Visit India Fares | Tibet | Customised Packages | Hotel Deals Jomsom

THE DRAGON KINGDOM Bhutan a purely Buddhist Himalayan Kingdom is unsurpassed
in its scenic majesty and vibrant culture. the kingdom shares with Nepal the world's greatest
concentration of mountains and living heritage of Buddhism. The fifty minute flight from
Kathmandu to Paro can truly be described as a flight into fantasy. During the flight a first
hand close up view of Mt. Everest, Mt. Kanchenjunga and other famous peaks becomes reality.
BI-weekly flights between these two kingdoms on every Monday and Thursday have made
travel easier to the long isolated dragon kingdom of Bhutan. There are direct flights from
Delhi bi-weekly and Bangkok weekly and tours can be planned according. Bhutan is one of the
few countries in the World still untouched, a paradise for tourists interested in Buddhist
culture and philosophy, flora and fauna, trekking and mountaineering. Due to the royal
Government's policy of controlled selective Tourism, Bhutan has been receiving
less than 2000 tourist annually only.

.



INSIDE BHUTAN
General Description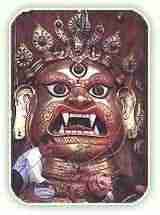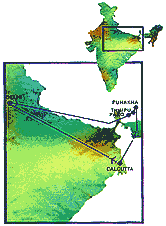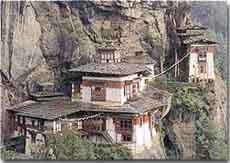 Phuntsoling
From its vast views of the Indian Plains,this overland gateway town is the start of a breathtaking drive
round hairpin turns through lush forests to the towns and valleys of the Inner Himalayas.
Paro
This beautiful terraced valley is home to many of Bhutan's oldest temples-and its first airport.
The National Museum is located in an ancient watchtower here, and Taktsang Monastery clings to sheer
cliffs 900 meters above the valley.
Thimphu
The capital city of Bhutan,this center of government, religion and commerce has grown
alongside monasteries and forts. From the earliest fortress-monastery, Simtokha Dzong, built in 1627.
Punakha
Spectacular views of the Himalayas can be seen on the road from Thimphu to Punakha dzong,
where the Pho Chu and Mo Chu rivers converge below this winter home of the central monk body.
Wangdiphodrang
Below rich cattle pastures at the junction of the Mo Chu and Tang Chu rivers,
a striking Dzong guards this windy valley.
Gangtey
This small village at the edge of the Black Mountain range is awash in golden hues-from its
yellow-roofed temple to the wheat fields where black neck crane begin their migration dance
before soaring off to Tibet in the spring.
Tongsa
Through a long valley, the ancestral home of Bhutan's royal family, spectacular views frame
the massive, many-leveled Tongsa Dzong, strategically located to guard what has been for centuries
the only east-west route through Bhutan.
Bumthang
Nestled in the barley fields and apple groves of the Bumthang valley,ancient art-filled
temples dating back to the seventh century mark the origins of Buddhism in Bhutan.
Mongar
A newly paved road cuts through high passes overlooking broad green valleys before reaching
picturesque Mongar,the second largest town in the subtropical east.



INDEX TOP BHUTAN PACKAGES



Send a Card
View a Card