Nepal | Island Breaks | Beach Getaways | Gambling | Exotic Locals | Adventure | Rejuvenate | Cruises | Legal Issues | Africa
Company Profile | Testimonials | Indian Railways | Pilgrimage | Corporate Incentive | Our Services | SE Asia
Honeymoon | Ayurveda | General Information India | Gastronomical Delights | Travelogue | Bhutan | Heritage Properties |
Visit India Fares | Tibet | Customised Packages | Hotel Deals | Jomsom

India.
We are pleased that you have chosen our vast and beautiful country
as your holiday destination and hope that your expectation and experiences here will bring
you back again and again to discover and rediscover the "Wonder that is India"

INTRODUCTION
India
A country of staggering topographical variations whose rich and incredibly diverse
cultural heritagehas been shaped by 5000 years of history.
A land where the ancient and the contemporary exists side by side, where thousands of brilliant images
fill the soul with wonder and where quaint and startling contradictions juxtapose to lend an
extraordinary vitality, texture and poetry of life. The history of India is replete with mythology,
archaeology and cultural heritage in its variegated manifestations. India is as luxurious as it
is squalid, some places as featureless as some absolutely spectacular. Yet with its vast diversity it has
unity.
Covering more than three million square kilometers, India is home to masses of humanity—
1 billion people at last count—and a bewildering pantheon of gods and monsters. Temples and shrines are
around every corner, and throughout the year there are hundreds of religious festivals. Here, religion is
an intrinsic part of life: Religious rules influence the people's daily chores, clothing, food, marriage,
education, and politics. About 80 percent of the population are Hindu and 11 percent are Muslim.
Although India is rich with tradition, the country and its people are not trapped in the past.
India has a thriving computer software industry and is the world's second-largest software exporter.
Indians are also avid movie producers; the Indian film industry is the largest in the world,
producing about three times as many full-length feature films as the United States.
From the deserts of Rajasthan to the tropical forests of Kerala, India is a great destination for anybody with an adventurous spirit. India has 59 national parks and more than 250 wildlife reserves, housing many animals
that are unique to the area. In this overpopulated country with underdeveloped roads, leave the cars and buses behind — trekking and camel safaris are great ways to get from place to place.
Click on Map for seeing
Tourist Map of India

LOCATION
India is a sub-continent, the largest democracy in the world, a country so vast, spread
over a land mass of 324 million sq.kms, with a population of 1 billion, with 14 major and 220 minor
languages with 845 dialects, each state having its own racial and cultural heritage, dresses,
eating habits, religious customs and festivals.
It occupies the 7th place in the world in respect of it's size. Forming a natural border, the Himalayas,
extends throughout the northern region, with the countries of China, Nepal and Bhutan bordering
it in the north, Bangladesh in the south east, Burma (Mandalay) in the east and Pakistan in the north west direction.
The coat line is 6000 kms in length and extends east to west through south.
Beneath its distinctive bulge, India narrows like an elephant's trunk to drink from the Indian Ocean,
Bay of Bengal and the Arabian sea. Such thirst is understandable.
The greatest deserts of the world - the Mexican, the Sahara and the Arabian - lie at the same latitude.
But India extends far beyond its Thar desert and this extra altitude provides, rain forests,
alpine meadows and glaciers.

CLIMATE
Few countries encompass as richly varied a landscape as India's, watered by the monsoon
and burnished by the sun.
The southwest monsoon dominates from late June to end of September, bringing high humidity and heavy rain. As these winds retreat in October, the land dries out and humidity levels fall.
The southeastern coasts however, get rain and cyclonic squalls until january. In November, with the strength
of the sun diminishing, the winter season starts in the northern plains. Until February the weather remains cold
(below 5 degrees C or 41 degrees F ) in the Himalayas and its foothills, where skiing is possible, pleasant in
the plains and warm in South India, except in cooler uplands. India's summer, which runs from March to May,
is hot and dry, with flurries of wind raising a dusty curtain over the northern plain and maximum daytime
temperature averaging 40 degrees C. South India is sultry and hot but temperatures are usually bearable
between 27 & 29 degrees C or 80 to 84 degree F. April is one month which is pleasant throughout the country.

DOCUMENTATION
Immigration - requirements
Entry Requirements : All tourists must carry a valid visa for India. Disembarkation cards must be completed and presented at the Immigration Counter on arrival at airport. Embarkation cards must be presented at the respective exit point counter on departure.
Visa & Special Permits is granted by the Foreigners Regional Registration Offices located in Delhi, Calcutta, Mumbai & Chennai. In State Capitals and District Headquarters application should be submitted to the Home department in the State Capital, or to the Police Commissioners office
Special Permits : Restricted and Protected Area Permits may be submitted to the Foreigners Registration Office or the Chief Immigration Officer at Delhi, Mumbai, Calcutta and Chennai.
Protected Monuments : Permission for photography at protected monuments may be obtained from The Director (Mouments), Archeological Survey of India, New Delhi.

CUSTOMS
One is advised to report to the appropriate channel for custom clearance, which are two in number. The Green Channel is for passengers carrying non dutiable goods and the Red Channel for those with dutiable items.
Duty Free Items : 1) Personal effects like clothing and other articles new or used, which one may reasonably
require, excluding merchandise for commercial purposes. These items should be taken back on final departure
from the country. 2) Travel souvenirs up to a total value of Rs 2000/-. Gifts may be brought in free of duty by tourists visiting
India for a stay of over 24 hours. 3) Cigarettes, Cigars, Tobacco and Alcoholic beverages subject to 200 cigarettes or 50 cigars or 250gms Tabasco and 1 litter each of wine and spirits. Click For more details on baggage rules

FOREIGN EXCHANGE
Indian currency is not permitted to be brought in or taken out of the country without prior permission from the Reserve Bank of India. Foreign Currency/ Exchange brought into the country must be declared at Customs where the value of currency notes exceeds US$ 2500/- or the aggregate value of exchange including currency notes exceeds US$10,000/- or its equivalent.
Money changing facilities : At the airport - 24 hours open. Also through banks and authorized money
changers in the city.
Foreign Travel Tax : At time of departure is levied @ Rs 150/- for travel to neighboring countries
and Rs 500/- for travel to all other countries.
EXPORT REGULATIONS
Prohibited Items :
Animals - Export of all forms of wild animals including their parts and products is banned
Plants - Export of all wild plants, seeds or parts is banned
Antiquities : Export is banned
HEALTH

Vaccinations
Foreign tourists should be in possession of their Yellow Fever Vaccination Certificate conforming to
International Health Regulations, if they are originating or transitting through Africa or South America.
The validity of this certificate is for a period of 10 years. No other vaccination certificate is needed, but for personal protection, inoculation is recommended for cholera, typhoid, malaria and hepatitis. You may
contact your local Indian Tourism Office or Embassy for further information.

INDIAN CUISINE
The Indian Cuisine
The indian cuisine shows big variation and with great local specialties. Punjabi, bengali, south indian, and north indian food are just to mentioned a few. Generally indian food is spicy, but you can also get non spicy food. If you like food India is a great place. It's quite amazing how a indian woman with a few basic ingredients can turn out the must exquisite and tasty meal. If you want to have a little taste of indian food take a look at indian cuisine index
How to eat:
Before eating remember,never eat with left hand, it's very impolite, sit on it if you can't remember it!
Even when eating south and north are different. Northindian eat with their fingertips while southindian use the whole palm of the hand to make a ball of rice
Where to eat:
Don't worry about not being able to find a place to eat. No matter how small a city, there will always be a place to eat.
Street places: Don't miss them, some can be really good. And you'll be able to see how it's prepared.
Indian lodges:This is the place where the indians eat. Serves basic meals and is very cheap.
Restaurant:The category above lodges. Good value, often the best food is served here.
Expensive restaurant:Besides being expensive, they offer no extra. And since many of them isn't that busy,
the food isn't always fresh.
Trains: The food here is good and hygienic

Bread
The Indian breads are excellent and cheap.
Chapatti: Very tasteful and in India you'll eat a lot of them, eaten mostly in the north.
Parota:Chappati with fat in. Sometimes stuffed with potatoes. Good!
Puri: Small bread fried in oil, often served with rice.
Bathura: Big puris!
Pappadom: Very crispy and tasteful. Especially gujarati pappad are good
Nan: The king of bread, you most taste it, prepared in a special oven.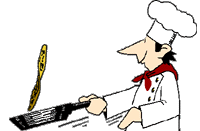 Basic meals
Thali: Rice and chapattis served on a metal plate, with a number of vegetables and curry's.
Masala dosa: Very thin bread with potatos,onions and curry.
Dal: Pulses found everywhere in India, good resource of protein.
Alu dum:Curry potatoes

Chicken:
Probably the meat dishes the indians do best. Here are a pick of some you shouldn't miss.
Tandori:You have not been in India, if you haven't tasted this.
Pakora:Small pieces of chicken in crispy fried dough.
Butter: Sweet and curry at the same time.
Tikka: Dry cooked and with a nice smell.

Snacks
Samosa:Very spicy and tasteful. Stuffed with "everything". Take care, they can be hard on your stomach.
Pakora:More sweet then samosa.
Fruit: Grapes, watermelons,coconuts,mango and bananas. India has all the fruits and they are very cheap.
Drinks
The indians have turned out some real thirst coolers.
Lassi: Yoghourt is pured in this drink.
Lemon soda: Exactly what you want when it's hot and humid.
Coconuts: Often newly plucked, delicious!
Tea (chai ): Very special indian taste.

Festivals & Religious Occasions of India
The Indian calendar is one long procession of festivals. These are as varied in origin as they are large in number.
There are innumerable national, regional, local, religious, seasonal and social festivities.
This is not surprising considering the fact that India is the land of gods, goddesses, saints, gurus and prophets.
Click for more information



TOP VISIT INDIA FARES

INDEX