Nepal | Island Breaks | Beach Getaways | Gambling | Exotic Locals | Adventure | Rejuvenate | Cruises | Legal Issues | Africa
Company Profile | Testimonials | Indian Railways | Pilgrimage | Corporate Incentive | Our Services | SE Asia
Honeymoon | Ayurveda | General Information India | Gastronomical Delights | Travelogue | Bhutan | Heritage Properties |
Visit India Fares | Tibet | Customised Packages | Hotel Deals | Jomsom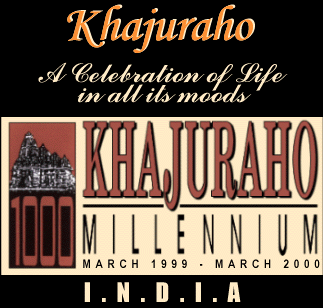 Ten centuries after they were constructed,
the Khajuraho temples remain a celebration of life in totality.
From the erotic to the divine. From the mortal to the eternal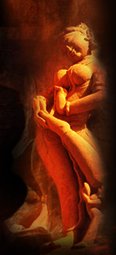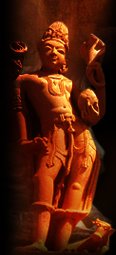 The creators of Khajuraho claimed descent from the moon.
The legend that describes the origin of this great dynasty is a fascinating one : Hemavati, the
beautiful young daughter of a Brahmin priest was seduced by the moon god while bathing
in the Rati one evening. The child born of this union between a mortal and a god was a son,
Chandravarman. Harassed by society, the unwed mother sought refuge in the dense forest of Central
India where she was both mother and guru to her young son. The boy grew up to found the
great Chandela dynasty. When he was established as a ruler, he had a dream-visitation from
his mother, who implored him to build temples that would reveal human passions, and in doing so
bring about a realization of the emptiness of human desire. Chandravarman began the construction
of the first of the temples, successive rulers added to the fast growing complex
The sculptors of Khajuraho have illustrated immense virtuosity in expressing
myriad aspects of Indian life - gods and goddesses, warriors and musicians, hunters and mythical animals.
And the famed images of sexual union which have intrigued visitors through the ages. Stone figures of
celestial maidens and nubile beauties appear on every temple as do erotic figures of men and women.
Some of the temples of Khajuraho like the Chaunsat Yogini and the Lakshmana are already more
than a thousand years old. Between 1999 and 2000, several others will reach this status.
From an inscription found on the Vishwanath temple, some scholars believe that it was completed in 999, others differ by a couple of years.The Chitragupta, Devi Jagdamba, Parvati, Ghantai and Nandi are all believed to have been built circa 1000 AD. Exact dates will always remain a matter of debate but the fact remains that the 10th century was a time-frame in history when Khajuraho art was at its zenith, which is also why its temples
are popularly known as the 10th century temples.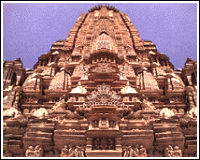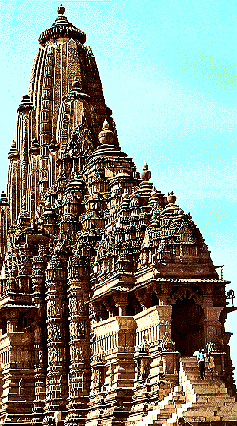 CULTURAL PACKAGE HOME WILDLIFE PACKAGE